2 tags
Weaving sounds to make braids
Vi Hart's "Doodle Music" video is a beautiful combination of art, math and music, illustrating parallels between symmetries in curves and symmetries in sound: I particularly enjoyed the braid melody at 2:35, so it made me want to discover a mathematical function governing the vibrations in the air that define a "musical braid". Looking at the braid First, let's investigate what Vi's musical...
3 tags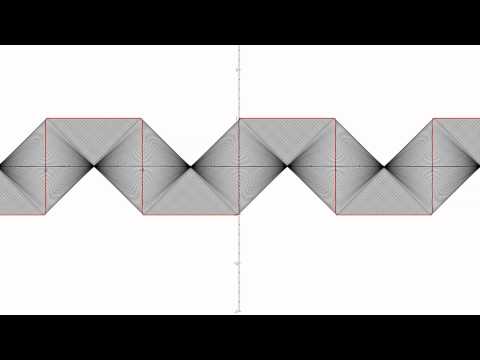 4 tags
Playing with a Flowing Torus
A friend recently sent me a video that demonstrates a remarkable slinky-like object called a toroflux, designed by Jochen Valett: It is a long ribbon of spring metal wrapped into a coil, except instead of coiling into a helix, as most springs do, this one coils through itself. It coils again and again, for the entire extent of the ribbon, where it is finally joined to the other end, creating a...
4 tags
A recycled rhombicosidodecahedron
My friend Cody drinks a lot of Red Juice. When bought from Costco, two 96 fluid ounce bottles of Red Juice come paired like this: That red connector between the bottles creates a handle for easy transportation. Most people dispose of these connectors and consume the Red Juice with the help of friends. Cody manages to drink this quantity of juice in a few days and sets the connectors aside,...
4 tags
Explaining an astonishing slinky
A friend recently sent me an animated gif depicting a man dropping a stretched slinky in slow motion: The first time you watch it, it's hard to resist calling it fake. The slow motion footage clearly shows that the bottom of the slinky doesn't move until the whole slinky collapses to the bottom. But common sense tells us that this is impossible; of course all parts of the slinky...
1 tag
A prisoner riddle
Quite some time ago, I came across a riddle, and I'd like to share a variant of it with you: 100 prisoners are incarcerated in a very peculiar jail. The jail has a single room with a light controlled by a switch that is initially off. The prisoners are each told that they will be taken one at a time into this room, and will be allowed to flip the switch if they so desire. They will then be...
4 tags
Printing the impossible...in 3D
In light of my last post, I began thinking about other shapes I could 3D print using Shapeways. Since my last piece was somewhat flat, I decided to go for a more volumetric structure this time, and I was especially taken by the idea of a shape that links with itself. But I wanted to achieve this with a model made of one piece instead of a chain with jangling disconnected pieces — to create a...
3 tags
An experiment in additive manufacturing
For a while I have been considering making 3D printed objects with interesting patterns and shapes, especially after seeing the work of Nervous System, which produces jewelry and other useful items modeled with algorithms (including reaction-diffusion):   My friend Britta and I were thinking about ideas for what I should make, and consequently what service I should use. We decided on Shapeways,...
5 tags
Visualizing the magnetic fields of "buckyballs"
You can think of a magnetic field as a collection of invisible fibers that fill space. These fibers are produced and deformed by magnets, and these invisible lines represent how other magnets placed inside the lines will experience forces from the magnets that originally produced these fields. The forces can be modeled with simple vector calculus because the magnets can be treated as dipoles. I...
7 tags
The mice problem: more on curves of pursuit
This drawing is titled "Drawn Entirely With Straight Lines", and it has some interesting geometric properties. I'll explain how it works. First, we can mentally break the hexagon shape into smaller modules: Each equilateral triangle region is identical, and they are reflections of each other. If you placed this hexagon inside of a kaleidoscope, this pattern would repeat...
5 tags
Mathematically defined Easter eggs
Mathematical equations are always used to make predictions and carry out proofs. I wanted to break this trend and explore the ways that equations could be used qualitatively to describe art — in particular, how they can be used to paint Easter Eggs. Using Mathematica, I created a three-dimensional egg shape via the parameterization via a perturbation of a sphere (c=0.2=,b=1.65):    This...
2 tags
Polyhedron lanterns
I went to a Mexican restaurant and saw these cool lamps in the shape of polyhedra (albeit not platonic solids). The shape is some kind of stellated rhombicuboctahedron, although it is not a "true" one, for two reasons: first, the stellation does not occur by simply extending faces to a point (the point is formed farther than then intersection of faces), and second, only the square...
1 tag
New musical notation using neighborhoods
My friend Britta showed me this internet gem: a musical composition game where you make sound via the neighborhood. Isle of Tune allows you to build roadways decorated with trees, flowers, streetlamps and houses, each with its own characteristic sound that plays when one of up to three cars pass it. I sat down for a few hours and created the following tune. After showing it to some friends and...
2 tags
Boxes don't have to be boring
Boxes are usually shaped like cubes, or rectangular prisms, at least. The challenge I set for myself was to build a box that not only reflected some more interesting mathematics and symmetries, but also presented itself in a way that an artistic-minded individual would be able to appreciate. In the Winter of my Sophomore year at UCSB, I gathered information to find where the woodshop was on...
3 tags
Sudo make me a pseudosphere
You may have seen it before: a magician spreads out a deck of cards on a table into a long row. He tilts the endmost card upward, and the neighboring cards rise accordingly, resting on the adjacent card. The next thing you know there is a beautiful shape, an array of cards coming to a sharp point which can be moved back and forth with the magician's finger. This is a tractrix. It's...
3 tags
The art of paper folding
A few years ago, a friend of mine showed me some art by Richard Sweeney, a sculptural artist and designer who built some mathematical structures out of paper. The first reaction of most people when they see this is confusion. "How could such a structure be built out of paper; it looks solid." Incredibly, the paper is folded on a curve to give the illusion of solidity. For this...